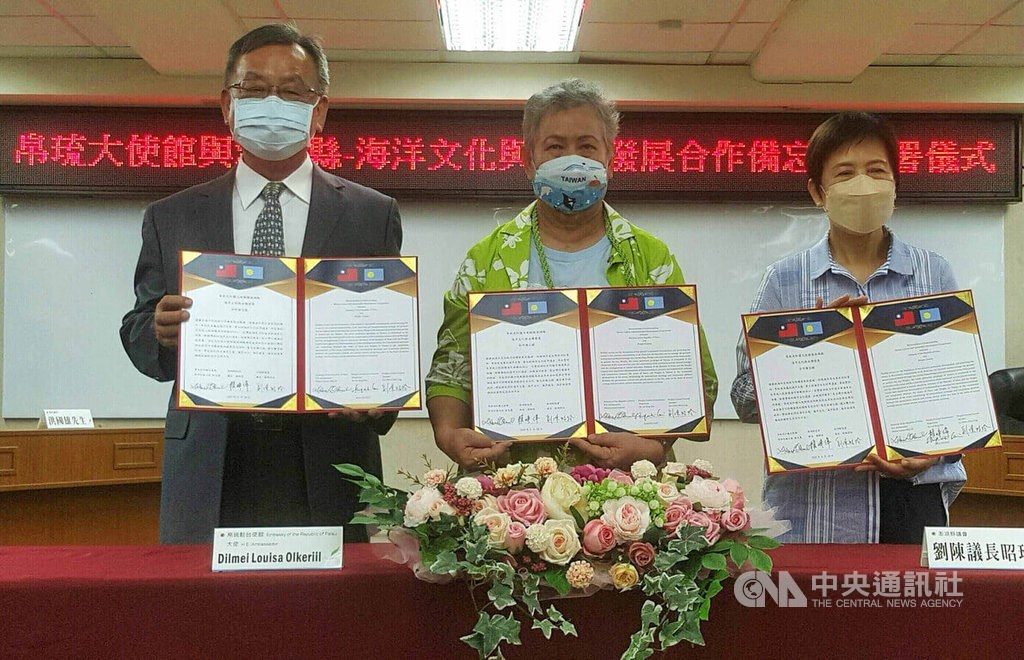 Taipei, June 20 (CNA) Taiwan's outlying Penghu County and Palau on Monday signed a memorandum of understanding (MOU) for cooperation on marine environmental protection and sustainable development.
The MOU was signed by Penghu County Magistrate Lai Feng-wei (賴峰偉), Penghu County Council Speaker Liu Chen Zhao-ling (劉陳昭玲) and Palau Ambassador to Taiwan Dilmei L. Olkeriil.
In her address during the MOU signing ceremony, Olkeriil noted that the geographical environment of Penghu is similar to that of Palau, an island country in the western Pacific.
Their coastal and marine environments sustain a multitude of important activities that fuel the local economy, Olkeriil said, adding that as a citizen of an island country living off the sea, she believes more should be done to protect the marine sustainable environment.
Meanwhile, Olkeriil expressed hope that she will be able to help facilitate the launch of an airline route between Kaohsiung in southern Taiwan and Palau to drive bilateral development.
Liu Chen said that while Penghu and Palau have similar ocean environments, there are things Penghu can learn from the Pacific-island country in marine environmental protection.
For instance, 80 percent of Palau's sea areas are designated protected areas. In addition, every tourist entering Palau must sign an oath to protect marine resources, Liu Chen added.
Meanwhile, Lai noted that the signing of the MOU was facilitated during the U.S.-Taiwan Marine Sustainable Development International Conference held in May 2021 in Penghu.
In the near future, the county government will send a delegation to Palau for exchanges in the sustainable development of marine culture, ecology, education and economy, according to Lai.
The Republic of Palau consists of 340 islands with a total land area of 459 square kilometers and a population of 18,000, lying roughly 800 km southeast of the Philippines.
Palau's economy relies heavily on fishing and tourism.
Penghu is the collective name for 90 small islands and islets located just off the western coast of Taiwan.
It has a total land area of approximately 127 sq. km and a population of 80,000 and its economy also relies mainly on fishing and tourism.