By Wang Kuan-jen, Huang Ching-hsuan and Jake Chung / Staff reporters, with staff writer
The National Immigration Agency in Taipei yesterday launched an international workshop to combat human trafficking, welcoming experts from around the world to seek solutions to the issue.
"We can only combat human trafficking by having ministries work together, bringing together experts in various fields and cooperating with international partners," Executive Yuan spokesman Lo Ping-cheng (羅秉成) told the opening of the International Workshop on Combating Human Trafficking.
The workshop's goal is to engage experts on three issues: developing trends of human trafficking during the COVID-19 pandemic and government reactions; what role digital technology plays in human trafficking; and the confiscation of illegal proceeds generated from human trafficking.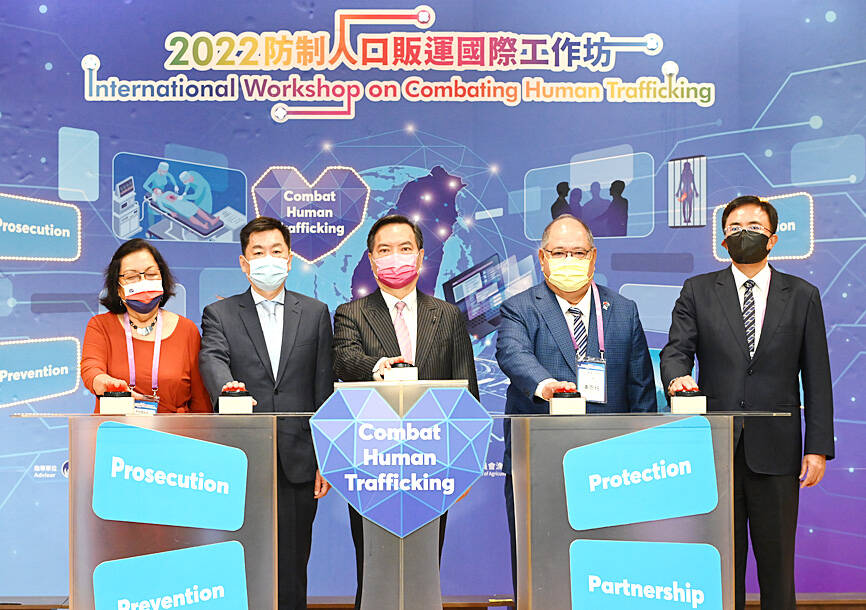 Photo: Tien Yu-hua, Taipei Times
Developing trends of human trafficking — including establishing stations outside a base country, using the Internet for scams and prioritizing the use of digital currencies — show that criminal methods are changing rapidly, Lo said.
The government is dissuading people from traveling to Cambodia and enacting measures to locate and save people targeted by traffickers, Deputy Minister of the Interior Chen Tsung-yen (陳宗彥) said, referring to reports of Taiwanese traveling to Cambodia with the promise of high-paying jobs, but upon landing being held captive, abused and even threatened with having their organs harvested.
Investigations are being conducted into the actions of 70 people linked to such criminal enterprises, Lo said.
The incidents in Cambodia offer an opportunity for the government to sweep the nation clean of organized crime and mitigate its effects on people's lives, Lo said.
Foreign experts, including South Korean government committee member Soung Jae-hyen, have been invited to attend the workshop, the Ministry of the Interior said, adding that more than 300 people are expected to participate.
The goal is to bolster ties with other governments and groups that tackle the issue of human trafficking, the ministry said, adding that it also hopes to increase collaboration between the private and public sectors in Taiwan.
Deputy Minister of Justice Tsai Pi-chung (蔡碧仲) and representatives from Tuvalu and the Marshall Islands also attended the launch.